RealEstateCRM.io – An Innovative Real Estate CRM & Marketing Platform For Real Estate Professionals
After the long, final wait, real estate professionals can now have an easier and efficient time to manage their real estate business. Introducing RealEstateCRM.io, it is a comprehensive real estate CRM and marketing platform for real estate professionals.
The software aims to provide effective CRM and listings management, as well as your business' advertising and marketing campaigns. Real Estate CRM software solutions are available to you and your team 24/7. These solutions also offer compatibility and great accessibility across multiple devices.
Real Estate CRM Software's Smart Features to Boost Real Estate Sales and Marketing
RealEstateCRM.io is packed with dozens of smart features to provide efficient solutions for real estate companies. The real estate CRM platform is highly scalable depending on your organization size and professional needs. The software provides the following smart features:
Managing your business' sales cycle from lead generation down to opportunities and deal management. The software also provides a 360° view of your contacts.
Auto-generate a smart list of contacts so that you won't miss any tasks or follow-ups and you can implement easily personalized communication
Create custom emails thanks to its built-in specific email templates. You can draft an email template easily thanks to its drag and drop builder.
Share your real estate listings automatically across your email list or social media messaging platforms with our unique listing landing pages.
Real Estate CRM Enables You to Communicate With Your Prospects and Clients Effectively
Real Estate CRM's 360° view of your contacts allows you to see all the activities and interactions you've done with your contacts. This enables you to keep track of your potential leads. It helps you narrow down those leads who need to follow up, those you haven't contacted.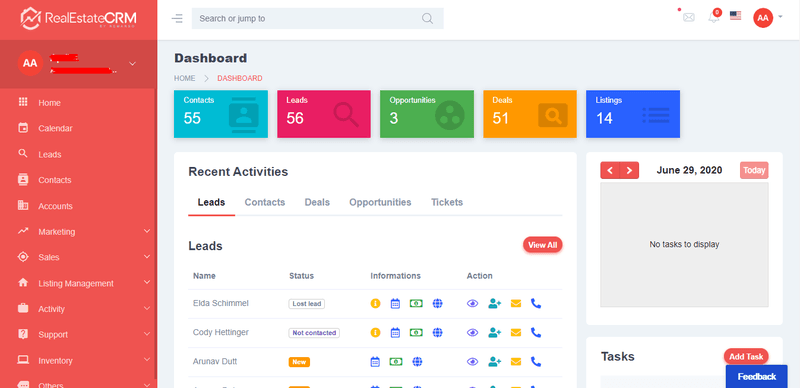 This feature will also help you in building rapport and connection with your contacts. For example, you can browse who's contacts have their birthday soon. Thanks to our built-in email template integration, you can simply create a greeting email wishing your contact a happy birthday. You can also use email to invite them for a quick catch-up. In this way, you'll be updated with their lives and pitch in some new listings that might help in fulfilling their real estate goals.
Comprehensive Email Integration
Aside from the software's built-in specific email templates, our email also supports integration to all email providers with IMAP protocol, and it's fully integrated with Gmail. RealEstateCRM.io lets you manage all your email contact in one centralized real estate CRM platform.
You'll never have to miss any important queries in your email. You can also archive any email from RealEstateCRM.io mailbox directly if you want. Most of all, it's easy to create a task or event and have it all synchronized with your calendar. With realestatecrm.io you will never leave your contacts alone!
Manage and Promote Your Listings Easily
RealEstateCRM.io features a user-friendly interface to help manage your real estate listings easily. You can attach stunning media like images, videos, and documents to promote your listings. Not only that, but the real estate CRM software also features competitive pricing analysis to determine how your properties fare in the market.
You can easily create your listings and promote them across property portals, the marketplace, and advertising platforms like Facebook marketplace and Google Ads remarketing platform. You can also match your listings with potential leads and opportunities by sending a selection of properties.
An Innovative Cloud CRM and Marketing Platform
Real estate companies have different organization sizes and needs. RealEstateCRM.io was developed to cater to different organization's size with scalability should you expand your professional needs in the future. This makes our real estate software compatible with both small and medium-sized enterprises.
With full rest API and growing numbers of integrations like Zapier and Google suite, you can integrate the real estate CRM platform with any API cloud-based solutions. Some of our famous integrations include accounting software, Xero.
Run by Passionate Developers, Marketers, and Real Estate Professionals
With our growing international team, RealEstateCRM.io has top-notch developers with a strong roadmap packed of exciting features. We release new features and improvements nearly every week. Our friendly support and onboarding team will help how to kickstart in revolutionizing your business with Real Estate CRM.
Your business will also grow as our passionate marketers will provide insights to increase in terms of efficiency and sales via articles, and federate a community of real estate professionals.????
Plans that Fit for Companies of All Sizes
From a company with less than 5 users to multi-branches networks of agencies, realestatecrm.io is the ultimate solution for real estate professionals. Our team features allow you to manage either a single or multiple teams, designate powerful roles and permission management systems to limit access and collaboration between your users.
It totally fits the needs of almost all real estate companies no matter the organization size. For companies who have less than 5 users, realestatecrm.io offers lifetime access to the software for FREE and no extra hidden costs! To access premium features, add more users, more storage you can at any time subscribe to one of our packages.